Loading... Please wait...
Choosing the Appropriate Brace Tension for your Toenail
Most individuals will achieve best results with the .140 standard tension brace. 95% of our customers select this brace. Increased pain and injury can be the result of using a brace with too much tension. Less tension generally yields easier application and longer life. How your nail responds to treatment is determined by three factors.
1
Toenail Curvature
More curved toenails require less brace tension
Less curved toenails require more brace tension
2
Toenail Thickness
Thick toenails require more brace tension
Thin toenails require less brace tension
3
Toenail Width
Wide toenails require more brace tension
Narrow toenails require less brace tension
How to Treat an Ingrown Toenail
CurveCorrect treats ingrown toenails by slowly straightening your nail and reducing its pressure on the skin. The brace applies a small force that lifts each side of the nail. In many cases the relief can be felt almost immediately. A visible improvement in the shape of your nail can take anywhere from a few days to a few months. How your toenail responds to treatment depends on its thickness, width, curvature and hardness. Once you've applied CurveCorrect no special care is needed. Go about your daily activities free from ingrown toenail pain. It's simple, maintenance-free and invisible. The result is a more healthy looking toenail that is flatter, wider and evenly curved.
Those with a chronic ingrown toenail condition should continue applying the braces uninterrupted for a complete nail re-growth cycle - the time it takes your toenail to completely renew itself. While your toenail may correct very quickly it's important to continue treating the nail for as long as possible. This minimizes the chance of recurrence. During this time, your nail is "learning" to grow differently and the tissues surrounding the nail must adjust. For those with infrequent ingrown toenails one or two treatments may be enough.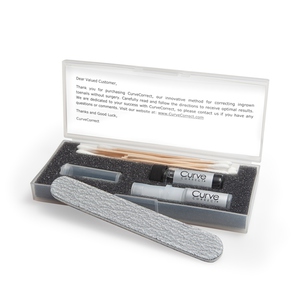 The CurveCorrect Ingrown Toenail Kit includes:
10 CurveCorrect transparent ingrown toenail braces
Medical grade, non-toxic brace adhesive (1.0 mL)
Solvent (3.7 mL)
Nail file
Cotton swabs
Application instructions
Plastic case
Scroll